The Grenada Citizenship by Investment Programme offers foreigners to obtain citizenship for a non-refundable contribution to the National Transformation Fund. To get a Grenada passport through an NTF Fund contribution, investors donate at least $150,000.
Grenada NTF's main tasks
The NTF fund has been operating since 2013. Grenada Citizenship by Investment Act, 2013 regulates fund activities.
The money invested in the state fund goes to developing the country's economy. For example, money from the fund was used to modernise the airport, roads, and educational institutions. The fund also supports agriculture and projects in the field of alternative energy.
$172.8 million, or EC$467 million, went into the fund between 2016 and the third quarter of 2022.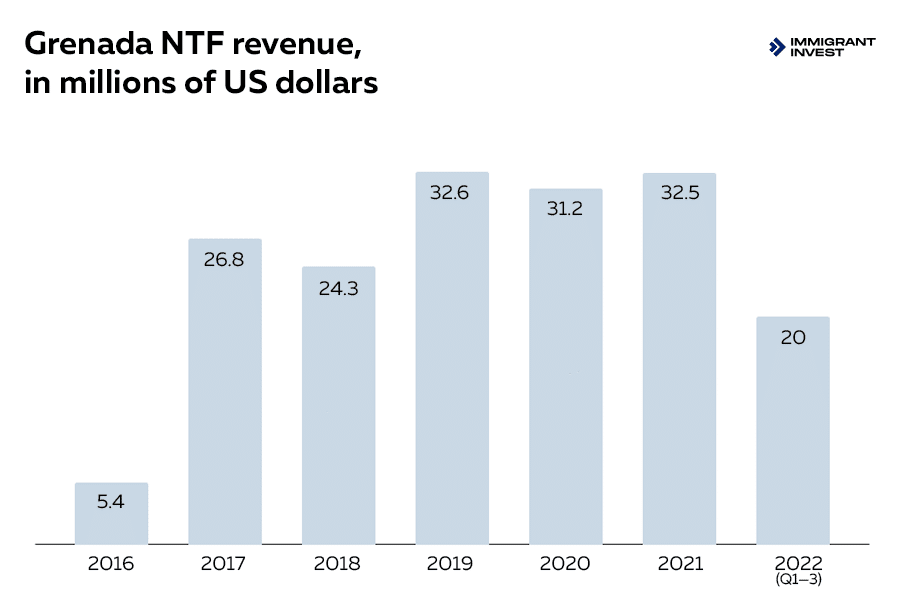 National Transformation Fund contribution amount in Grenada
The main investor can apply for citizenship with a spouse, dependent children, siblings, and parents. Fees for family members vary according to the number of family members included in a citizenship application.
NTF Fund Option
Main applicant
Married couple
Family of four
Family of 5 and more
Investment amount
$150,000
$200,000
$200,000
$200,000

+ $25,000 per additional dependant after 3rd
Due Diligence fee
$5,000
$10,000
$5,000 per family member over 17
$5,000 per family member over 17
Application fee
$1,500 per person
$1,500 per person
$1,500 per person
$1,500 per person
Processing fee
$1,500 per person
$1,500 per person
$1,500 per person aged 18 and over

$500 per person under 18
$1,500 per person aged 18 and over

$500 per person under 18
Process of obtaining Grenada citizenship by investment in NTF
Investors apply for Grenada citizenship only through authorised agents. Immigrant Invest can help you and your family obtain a Grenada passport in 3—6 months.
1. Preliminary Due Diligence. Immigrant Invest has its own Compliance Department. Certified Anti Money Laundering Officers check investors' documents. They search for risks in the applicant's personal or business background that may lead to rejection in obtaining Grenada citizenship.
2. Preparation of documents. If preliminary Due Diligence was successful, Immigrant Invest lawyers draw a list of required documents. It includes personal papers and financial records, including passports, certificates and bank statements.
3. Submitting documents. The lawyers notarise the copies, fill out the required forms, and draw written statements or affidavits. They send the prepared documents to the Grenada CBI unit.
4. Due Diligence by the CBI unit. After receiving the required documents, the Grenada CBI unit begins the Due Diligence. The unit may request additional records or explanations. In that case, Immigrant Invest lawyers deal with the requests.
5. Fulfilment of the investment condition. The CBI unit informs Immigrant Invest when the application is approved. Once the notification is received, the investor must contribute to the Grenada NTF fund. The investment must be made within 30 days.
6. Receiving a passport. A passport and a naturalisation certificate are issued within 4 weeks after fulfilling the investment condition. The investor gets the documents by courier at a convenient address or in the Immigrant Invest office.
How many investors contribute to the NTF fund in Grenada
In 2017—2019 the NTF contribution was the most popular investment option. Later, demand for investment property increased.
69% of applicants are investors who have chosen to obtain Grenada citizenship by real estate purchase in 2022. Investors have the right to rent out real estate or sell the property 5 years after the purchase.
Demand for tourist real estate and rental prices began to grow in 2019 due to the large flow of tourists.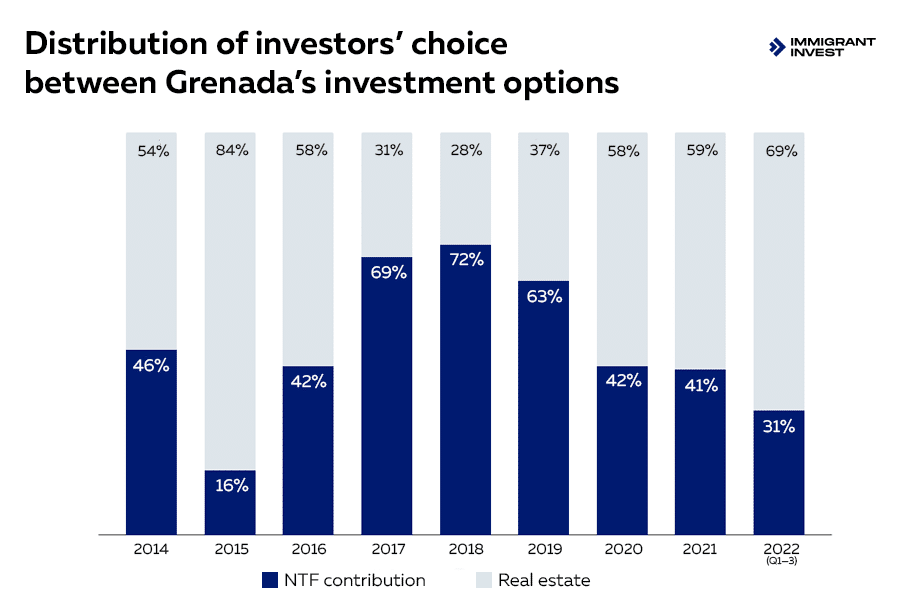 Why investors choose Grenada passport by NTF Fund contribution
Travelling without visas to more than 140 countries is one of the main reasons investors choose the Grenada passport. Visa-free destinations include the countries of the Schengen Area, the UK and Hong Kong.
Visa-free travelling to China. Only 18 countries of the world have visa-free agreements with China. Grenada is one of them, being one of the two Caribbean countries with citizenship programs, which passport allows the holder to visit China visa-free. The stay in China without a visa is up to 30 days a year.
The E-2 US business visa. Wealthy people who want to open a business or invest in a company in the US need a special visa. There are several such visas, and the most convenient is E-2.
It is available only to citizens of countries with which the US has signed an E-2 treaty. Grenada is one of those countries. Therefore, with a Grenada passport, the investor can live and do business in the US without restrictions.
3—6 months of obtaining process. It is much faster than obtaining citizenship in an EU country. In comparison, Malta citizenship for exceptional services by direct investment can be obtained in a minimum of 14 months. Citizenship of other EU countries will have to wait for 5 years. At the same time, the costs of investors for Grenada citizenship are several times less than those for citizenship in an EU country.