Purchase of real estate
Real estate investment is the option that attracts professional investors from the property industry — and quite a few of them are high-net-worth. They understand the market, can therefore assess risks and choose a liquid asset from a reliable developer.
All Caribbean citizenship programs offer the property option: investors buy a property worth at least $200,000 and get a Caribbean passport.
Each Caribbean program has a list of properties approved by the country's government. To participate in the real estate option of a Caribbean program, investors must choose one of these properties. They choose from shares, apartments, hotel villas, or resort complexes.
A hotel or a resort complex share can be bought for $200,000—$220,000. Apartment prices start at $400,000, and villa prices are at $1,000,000.
St Kitts and Nevis program allows buying government-approved private homes for $400,000 or more. It is selected by people who want a secluded villa in a tropical paradise with private beach access.
Real estate can be sold five years after obtaining a passport; it is a program requirement. Property prices in the Caribbean are growing at an average rate of 3—5% per year. Thus, when selling real estate in five years, investors can return the investment with a profit.
5 years
Return on investment period for Caribbean real estate
All properties — apartments, villas, and shares — can be rented out for additional income. The average yield is 3 to 5% per annum. In the high season during winter months, rental income can reach 10% per annum.
Example of properties for sale in the Caribbean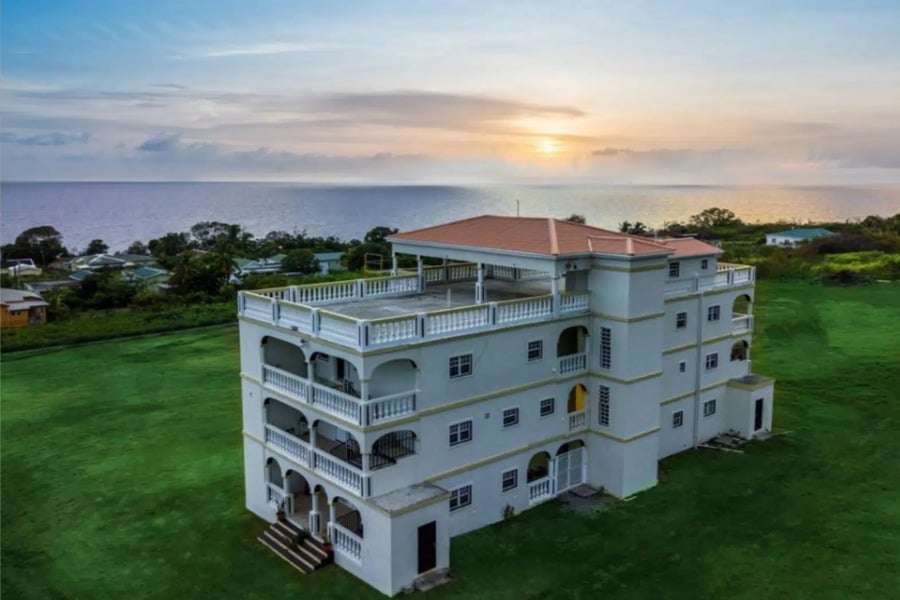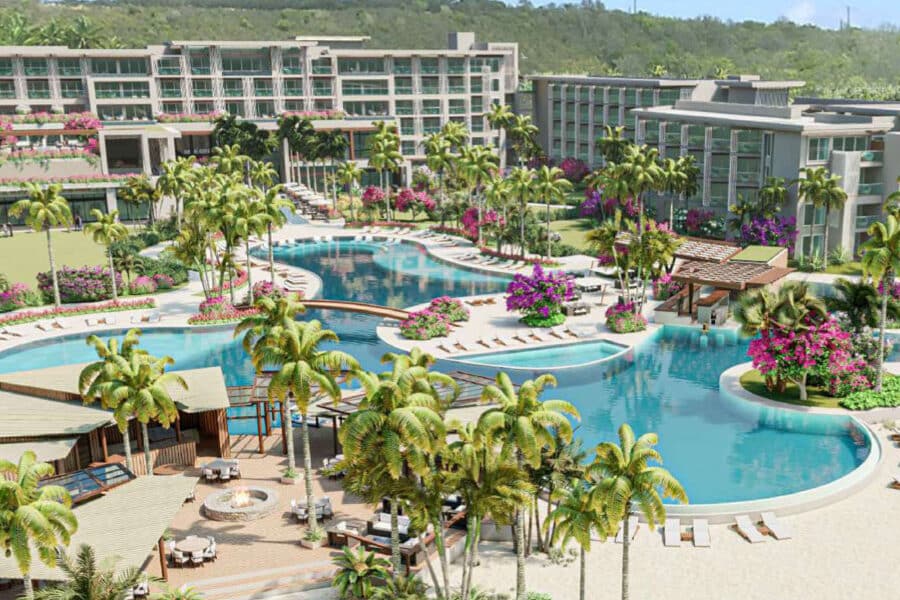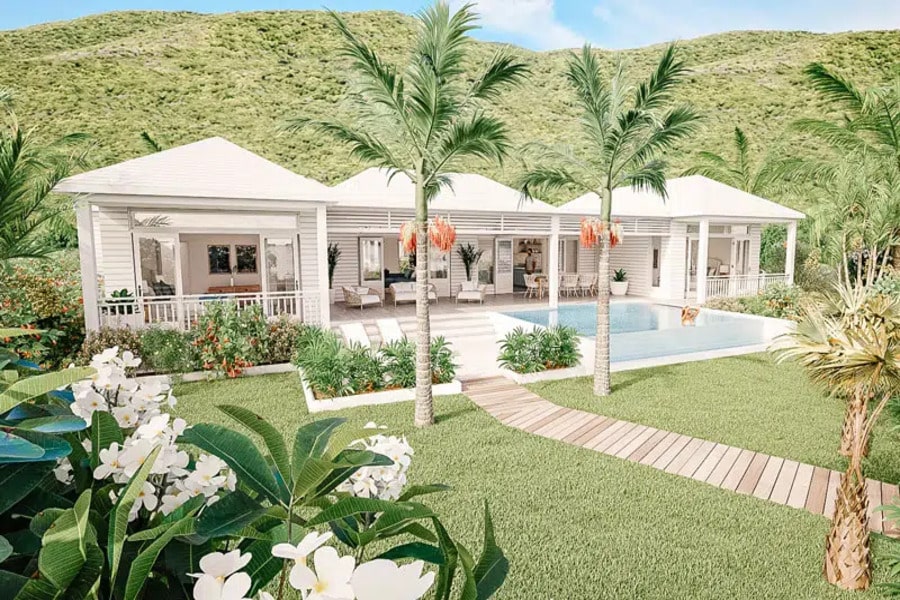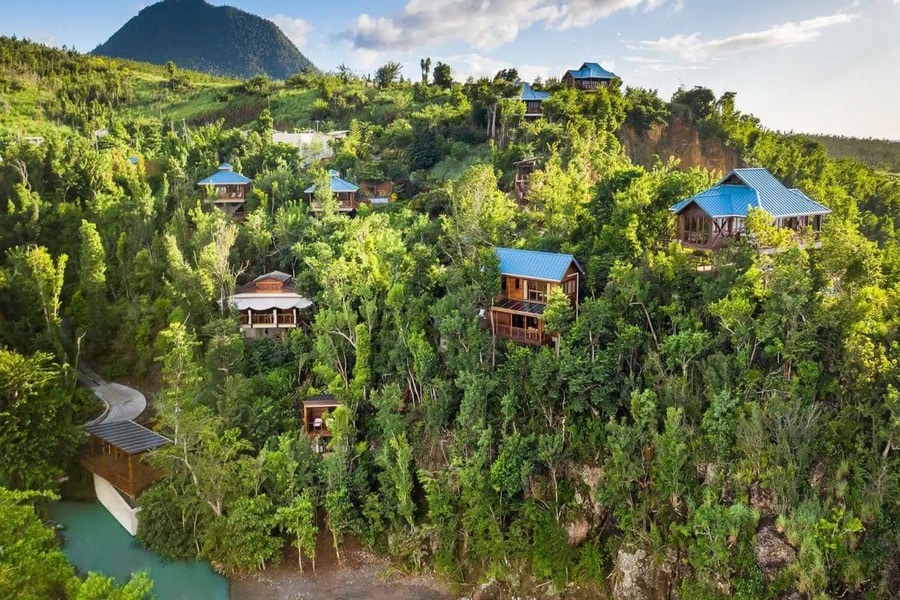 Investing in business projects
In Antigua and Barbuda and St Lucia, investors can contribute to the country's business in exchange for a passport.
Investors open a business in the program's country, in an industry prioritised by the government. Government-approved businesses can be found on the official websites of the programs.
Investment requirements and approved business industries include the following:
$1,500,000+ in Antigua and Barbuda. Approved businesses include hotel and construction projects;
$3,500,000+ in St Lucia. Approved businesses include restaurants, as well as pharmaceutical and road construction projects, as well as projects by research institutes and universities.
The business investment option is not in demand. Entrepreneurs usually prefer an industry familiar to them, and this option requires significant resources.
Getting a second passport by purchasing government bonds or real estate in the Caribbean is much more affordable and accessible. If registering a company is an investor's priority, they can easily do so after becoming a citizen, and the government will not limit their choice of business fields and industries. In our experience, investors need up to $50,000 to open a company in the Caribbean.
Non-refundable contributions to state funds
A non-refundable contribution to a state fund is one of the options for obtaining a Caribbean passport. Money from that fund is spent on the development of the country's economy and infrastructure.
A state fund contribution requires less investment amount compared to other options. For example, to get a St Lucia passport, investors usually choose out of three options: contributing $100,000 or more to the state fund, buying real estate for at least $200,000, or purchasing government bonds for $300,000.
$100,000
The minimum fund contribution
In St Kitts and Nevis, there's a limited-time offer valid until June 30th, 2023. Investors who choose the state fund option will be able to contribute $125,000 instead of $150,000. They will also be able to receive citizenship in 60 days for no additional acceleration fee.
In addition to the comparably low cost among all Caribbean citizenship options, the state fund option has no additional obligations: investors don't need to maintain and resell real estate or develop a business. They make a one-time monetary contribution and get a passport.
Vanuatu also has an option of a non-refundable contribution to a state fund. Vanuatu is a country in Oceania, located east of Australia. Investors contribute at least $130,000 in exchange for a Vanuatu passport.
A $150,000 contribution to the University of the West Indies Fund is another opportunity to get an Antigua and Barbuda passport. The option is designed for a family of at least six people. In addition to the passport, one of the family members receives a free year of study at the university.
Comparison of state fund contribution investments in the Caribbean
Country
Single investor
Married couple
Family of four
Dominica
$100,000
$150,000
$175,000
St Lucia
$100,000
$140,000
$150,000
Antigua and Barbuda
$100,000
$100,000
$100,000
Grenada
$150,000
$200,000
$200,000
St Kitts and Nevis


Until June 30th, 2023

$125,000
$150,000
$170,000
Vanuatu
$130,000
$150,000
$180,000
Purchase of government bonds
The St Lucia citizenship program offers to buy bonds worth at least $300,000 and receive a passport. The bonds can be sold and repaid in five years.
This option attracts investors who want to return their investment and consider bonds more convenient than real estate. Buying and selling bonds are more straightforward than buying and selling real estate. This option is often chosen by investors whose professional activity is related to the bond market.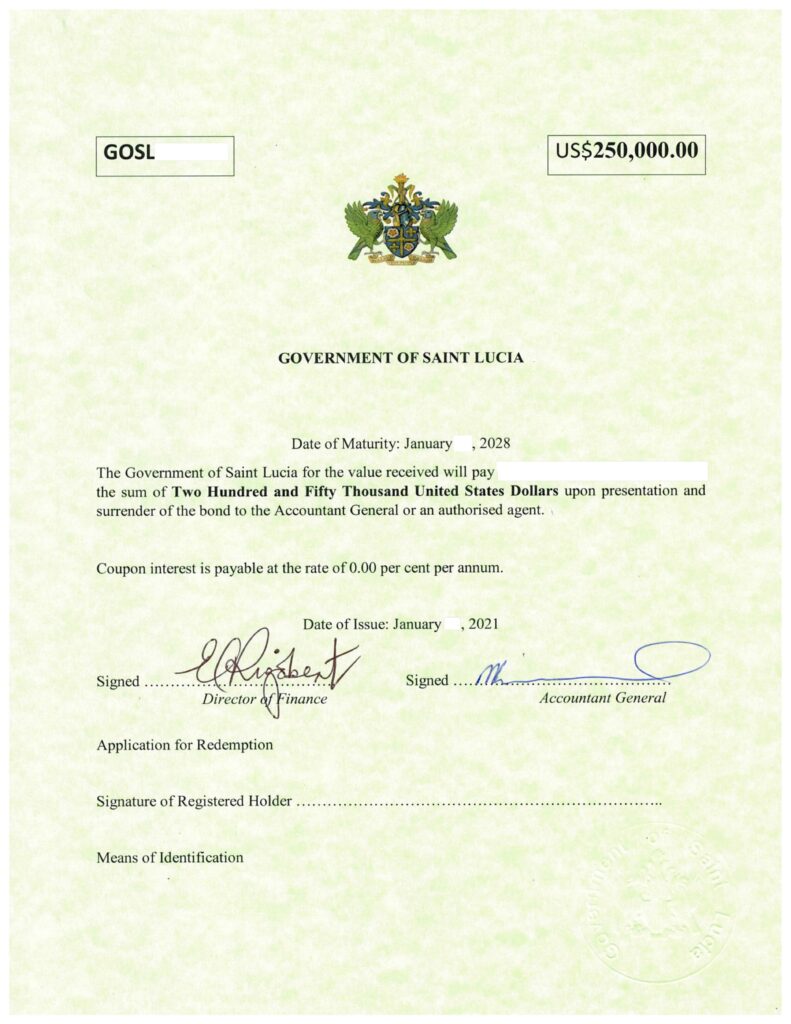 What options do investors prefer?
Investors prefer the non-refundable Caribbean state fund contribution. Transferring money to a fund and getting the passport is the easiest way to become a cosmopolitan with two citizenships.
60% of investors choose the non-refundable state fund contribution option because of its low cost compared to other options.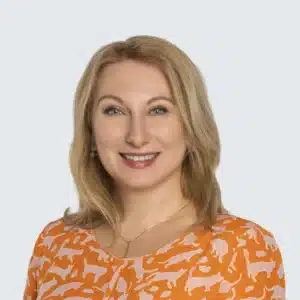 Zlata Erlach
Expert in the Caribbean investment programs
Those who want a return on investment choose the real estate and government bond options.
Fewer investors choose the business investment option because of the large investment amounts and higher risks
Comparison of investments for all citizenship program options
| | | | | |
| --- | --- | --- | --- | --- |
| Country | State fund contribution | Real estate purchase | Business project investment | Government bonds purchase |
| Dominica | $100,000 | $200,000 | — | — |
| Antigua and Barbuda | $100,000 | $200,000 | $1,500,000 | — |
| St Lucia | $100,000 | $200,000 | $1,000,000 | $300,000 |
| St Kitts and Nevis | $125,000 | $200,000 | — | — |
| Grenada | $150,000 | $220,000 | $3,500,000 | — |
Documents investors will need when applying for Caribbean citizenship
Different Caribbean programs require different documents, but some requirements are similar. Thus, the main applicant, i.e. the investor, will need certified coloured copies of the following documents:
A travel document, i.e. an international passport, must be valid and not approaching the expiration date.
A certificate of no criminal record also can be referred to as a police clearance certificate, proves the absence of a criminal record in the country of origin.
A birth certificate must include the parent's details.
A certificate of marriage or a marriage record excerpt. Caribbean citizenship programs only recognise opposite-sex and formally registered marriages.
Statement of the source of funds the applicant means to invest via the program.
Affidavit of support of each dependant over 18, excluding the spouse.
Evidence of residential address with the full name.
These are only some documents: the complete list depends on the Caribbean program, the investment option, and the number of applicants.
Benefits of Caribbean citizenship
Visa-free entry to more than 140 countries. Caribbean citizens don't need visas to enter the Schengen Area, the UK, Singapore, Hong Kong, and dozens of other places worldwide. Additionally, Grenada and Dominica's passports provide visa-free entry to China.
US visas. Caribbean citizens qualify for B-1/B-2 visas to the US. These are visitor visas valid for 10 years.
Grenada citizens also qualify for the E-2 visa to the US. This visa allows them to live, study, and work in the US. It can be renewed every two years.
Fast and remote obtainment. Investors can get a Caribbean passport in 2—4 months without visiting the citizenship program's country. They submit all documents remotely and get passports and certificates mailed to them.
Family inclusion. Investors can add their spouses and children to the Caribbean citizenship application. Some Caribbean countries allow adding parents, grandparents, and siblings.
Tax optimisation. Caribbean countries don't tax worldwide income, capital gains, wealth, inheritance, and gifts.
International banking opportunities. Caribbean citizens can open accounts in Caribbean and European banks and keep their savings in hard currency.
UK education access. Caribbean investors' children can acquire UK student visas with more ease. They will also be eligible for quotas in prestigious UK universities. This is possible since Caribbean states with citizenship programs are Commonwealth members.
Frequently Asked Questions
Which Caribbean country is easiest to get citizenship?
Consider five Caribbean countries with citizenship by investment programs: St Lucia, Dominica, Grenada, Antigua and Barbuda, or St Kitts and Nevis. 
Program participants receive citizenship in several months. 
St Kitts and Nevis citizenship program offers the shortest obtainment period: investors can get passports in just 2 months. Besides, the program also has a limited offer: investors who chose the non-refundable state fund contribution option before June 30th, 2023, can get citizenship in 60 days. 
Antigua and Barbuda, Dominica, and St Lucia citizenship programs offer to get citizenship for $100,000, which is the investment option among all five Caribbean programs.