Overview of the real estate market in Antigua and Barbuda
Foreigners are allowed to purchase properties in Antigua and Barbuda, but they need to buy a licence. Alien Landholding License costs 5% of the property value. If a buyer participates in the Antigua and Barbuda citizenship program, they are exempt from this requirement.
Property in Antigua and Barbuda is popular with citizens of English-speaking countries and Europeans. About 60% of sales are registered by UK citizens, 10% by USA citizens and 5% by Canadians. The 25% rest is shared between the representatives of various European countries.
Non-locals buy mostly prime real estate in Antigua and Barbuda. Beachfront properties are in the most demand, so their prices are the highest. Proximity to airports and infrastructure is also a factor in value increasing. Prices on the island of Antigua are higher than on Barbuda.
For properties in our catalogue, the average price for a square metre is $5,640. The maximum is $12,560, and the minimum is $1,566.
Approximate real estate prices:
$200,000 for shares;
$250,000—$400,000 for apartments;
$600,000 for penthouses;
$400,000—900,000 for 2-bedroom villas;
$1,900,000—$3,500,000 for villas with 3—6 bedrooms;
$550,000—750,000 for plots of land for construction.
In 2022, the prices of luxury properties in Antigua and Barbuda rose by 5—10%. Experts predict that prices will continue to grow but at a slower pace.
Can I get a second passport for $1,000?
No, you can't. But we know how to obtain second citizenship by investing $100,000. Subscribe to our newsletter and get credible updates about Caribbean citizenship.
Benefits of buying real estate in Antigua
Rental income. Property owners can gradually recapture the investment by renting real estate out. Housing in Antigua and Barbuda is in demand all year round, but the peak season is from December to April. The annual rental yield is 2—5%.
2—5% a year
The income from renting the property out
According to online marketplaces for accommodations, the average rent is $460 daily. The minimum is $36 per night to stay in a studio, and the maximum is $920 per day to rent a 4-bedroom villa.
A longer-term lease is, as usual, less costly. Let us outline the prices for monthly rent.
How much it costs to rent an apartment in Antigua and Barbuda
| | | |
| --- | --- | --- |
| Apartment type | In the city centre | Outside the city centre |
| 1-bedroom apartment | $1,000 per month | $750 per month |
| 3-bedroom apartment | $1,850 per month | $1,200 per month |
Growth of property prices. There are no official housing price records in Antigua and Barbuda, but experts state that real estate prices in the country have been rising for the last three years.
Luxury property prices increase by an average of 5% per annum, and the rise may reach 10%. Let's say someone purchased a villa for $1,000,000. Then in 5 years, they might be able to resell it for about $1,270,000 or even more.
Investments in uncompleted properties can bring higher profits. Immigrant Invest real estate experts estimate that the property object increases in price by 10—20% at each stage of construction. If you invest at the stage of the foundation pit, by the time construction is completed, the property's value might increase by 40%.
Up to 40%
The rise in the price of the property under construction by the time of completion
Low taxes. Rental income is charged with no tax at all. Property ownership is taxed at low rates: 0.2—0.5% of the property value, depending on the real estate location. It is paid annually.
Second citizenship. Purchasing a government-approved property allows an investor to obtain an Antigua and Barbuda passport. The minimum property investment under the citizenship program is $200,000.
Antigua and Barbuda citizens can visit 151 countries without visas, including the Schengen Area and the UK. They can also get a US visa for 10 years with the possibility of remote renewal by mail.
Best places to buy real estate in Antigua and Barbuda
Antigua and Barbuda are the two inhabited islands of the country. They are surrounded by a bundle of tiny islands, some of which have been developed into prime intimate resorts. Harbour Island, Maiden Island, Guiana Island and Crump Island are among them. The coastlines of the main islands also have a significant number of luxury property projects.
Antigua is divided into six parishes: St John, St Philip, St Mary, St George, St Paul and St Peter.
Saint John is the capital district, most populated and developed. About 50 thousand people live in the area, half of which reside in the capital city bearing the same name, St John's. The main cruise port, airport and public hospital are located in this region.
St Philip has lots of tourist attractions. Among them are Half Moon Bay, named for its crescent shape, 8-km Long Bay Beach with pink sand and Devil's Bridge, a natural rock arch.
St Mary is home to Antigua's most famous historic site — English Harbour, a former British Navy base and a current national park and museum.
Barbuda is an island of 160 square kilometres with a population of as little as 1,600 inhabitants. Barbuda is famous for its quiet, pristine beaches, which count among some of the best beaches in the Caribbean.
Examples of investment properties in Antigua and Barbuda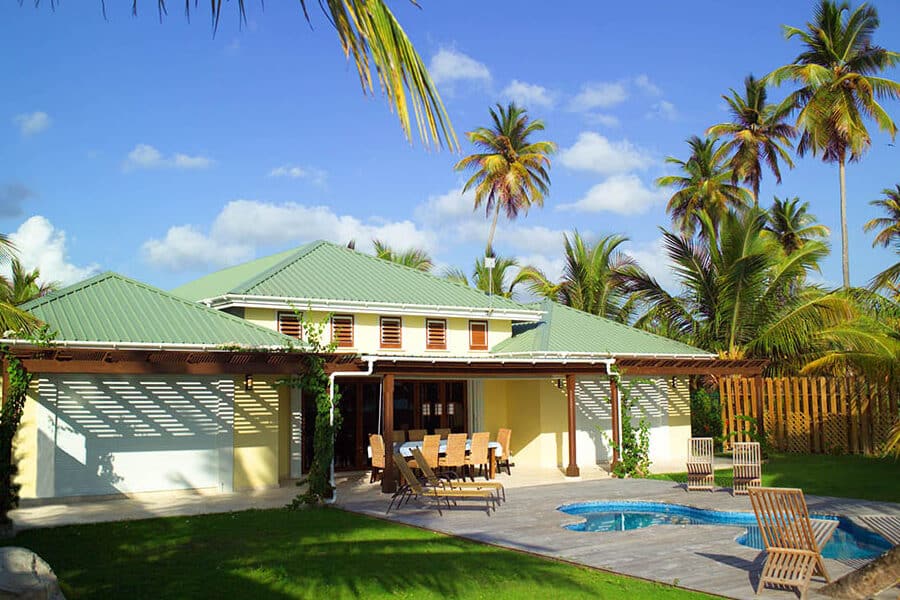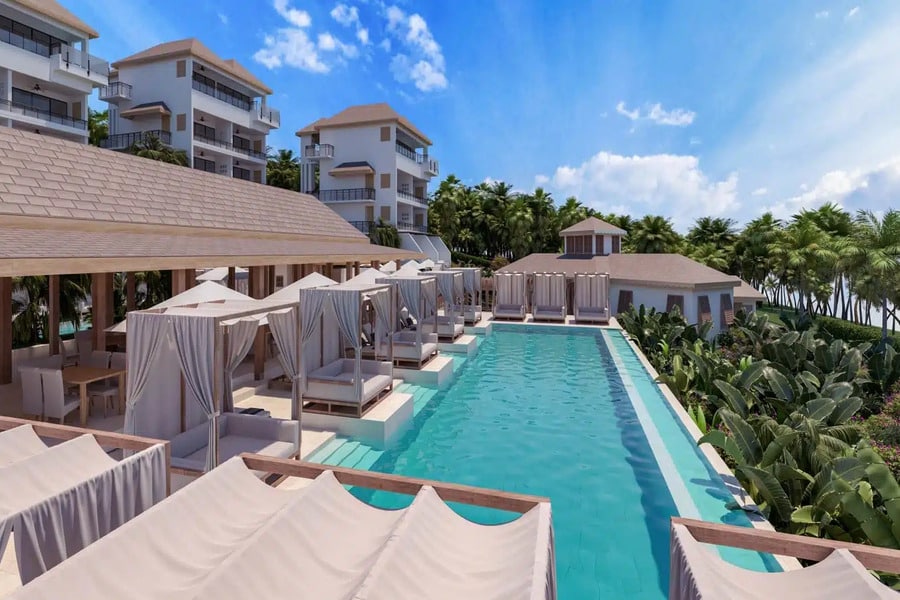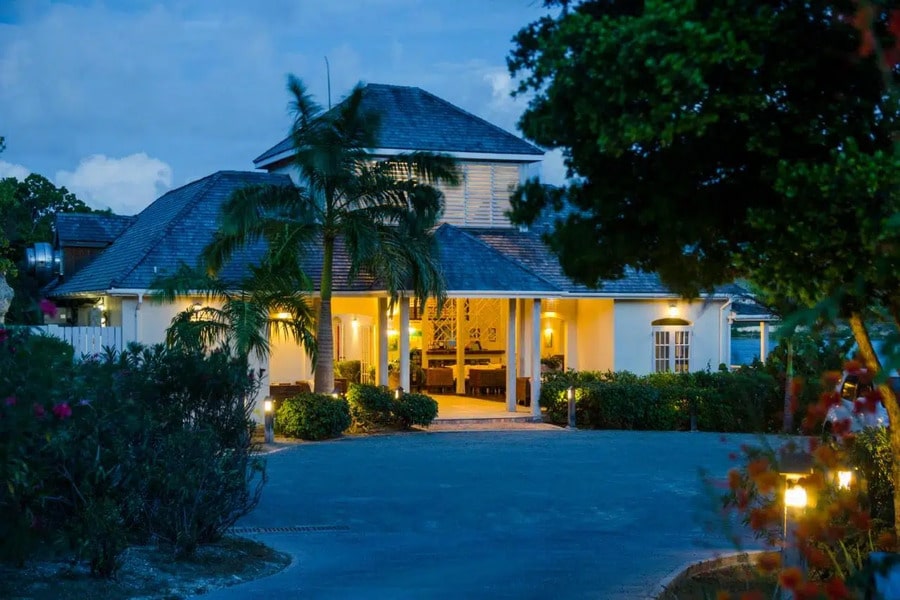 Step-by-step process of buying property
The procedure of purchasing real estate in Antigua and Barbuda takes 3+ months, consists of 4 steps and can be undergone entirely remotely. Both individuals and companies can register property in their names.
1. Choosing a property. Real estate officers with Immigrant Invest pick out several options best suit the investor's request. Our lawyers check the legal purity of properties; thus, we offer only reliable real estate.
2. Making a reservation. When the investor makes up their mind, we negotiate the terms with the seller on their behalf.
The investor or their lawyer signs the presale agreement and makes an advanced payment of 10% of the price. The lawyer will also register a caution against the property to restrict any dealings with it without the purchaser's consent.
3. Getting approval. If the investor purchases property under the Antigua and Barbuda CBI Program, we submit their application to the CBI Unit. If a foreigner makes an independent investment, they apply for a landholding licence. In both cases, it takes 3‑6 months to get approval.
4. Closing the deal. The investor transfers the remaining 90% of the property cost and pays the required taxes and fees. Then the transaction is recorded and registered at the Land Registry Department.
Property taxes, fees and maintenance costs in Antigua and Barbuda
Upon purchasing real estate, buyers pay a stamp duty of 2.5% of the property value. Another 1—3.5% goes to legal support and fees. The property transfer tax is not levied.
If a buyer is not an Antigua and Barbuda citizen or participant of the citizenship program, they also pay for the landholding licence. Its cost is 5% of the real estate value.
Real estate agent commissions usually range from 5 to 7%. If you purchase property to apply for Antigua and Barbuda citizenship with Immigrant Invest support, these charges are not applicable.
Expenses when buying real estate
3.5—6%
If participating in the citizenship program
13.5—18%
If purchasing independently
Suppose an Antigua and Barbuda citizenship program participant purchases a villa for $1,000,000. Then, the total cost of buying the villa will be $1,060,000 at the maximum rates of fees and duties. If a foreigner purchases the same property independently, expenses may reach $1,180,000.
When owning a property, the annual tax of 0.2—0.5% of its value is charged. If renting the real estate out, income is not subject to taxation.
If you delegate your property management, it usually costs about 10% of the rental income. Management companies look after real estate, search for tenants, arrange current repairs, and pay insurance premiums, taxes and utility bills.
Utility rates for domestic use:
$0.15 per kWh for electricity;
$8—18 per 1000 gallons for water.
Upon selling a property, the seller pays a stamp duty of 7.5%. Non-citizen sellers also pay a tax of 5% of the appreciation in the property value.
Antigua and Barbuda citizenship by real estate investment
Conditions for obtaining Antigua and Barbuda citizenship in exchange for the purchase of a property are the following:
Buy a property from the list of more than thirty government-approved projects.
Invest at least $200,000.
Own real estate for at least five years.
Investors must have no criminal record, be in good health, financially solvent and able to prove the legality of income. They can include dependent family members in the application without increasing the minimum investment amount. Spouses of the opposite sex, siblings, children under 30 and parents over 55 are eligible.
Participants bear additional expenses under the Antigua and Barbuda CBI Program.
Additional expenses for obtaining citizenship
Cost item
Expenses amount
State fee
$30,000 for a family of up to 4 people

$15,000 for each family member, starting from the 5th one
Due Diligence
$7,500 for the investor

$7,500 for a spouse

$4,000 per dependant over 18

$2,000 per child or sibling aged 12—17
Fees and duties
$300 for issuing each passport

$260 for banking commission per invoice
In total, a single investor will spend a minimum of $238,060, and a family of four — from $250,460. They will be able to earn rental income while owning the property and then return $200,000 in five years.
The status of an Antigua and Barbuda citizen is lifelong but not hereditary.
Frequently asked questions
Can foreigners buy property in Antigua and Barbuda?
Yes, foreigners are allowed to purchase real estate on the islands. Yet, they need to acquire the Alien Landholding Licence for 5% of the property value. This requirement does not apply to participants of the Antigua and Barbuda citizenship program.
How to buy property in Antigua and Barbuda?
To buy property in Antigua and Barbuda and become a member of the citizenship program, you must select a property from the government-approved list. You can look them up in our catalogue. 
The investor contributes 10% of the object's value to reserve housing. The next step is to collect documents and apply for citizenship.
The object reservation agreement serves as the basis for considering the investor's application for citizenship. Once the application is approved, the investor pays for the property and the associated fees.
How long does it take to obtain Antigua and Barbuda citizenship by real estate investment?
The speed of obtaining a passport under the citizenship-by-investment program does not depend on which option the investor has chosen. 
In Antigua and Barbuda, the procedure takes 3 to 6 months. Of these, 2+ months are spent checking applicants' reliability. The property purchase process takes about one month.
Is it possible to sell the property earlier than after five years of ownership?
The investor can sell the property anytime. But owners must keep the asset for five years if they participate in the citizenship program. Otherwise, they will lose citizenship.
Is the investor required to visit Antigua and Barbuda to make a real estate transaction?
What properties are in demand by tenants?
Tenants are most often interested in apartments with one or two bedrooms near the coast. Wealthy tourists prefer to rent secluded villas.
Cosmopolitans are attracted by the opportunity to spend holidays or live for several months of the year in a mild tropical climate near luxurious beaches with clear water. Divers and yachters choose the islands for their developed infrastructure.
What are the benefits of Antigua and Barbuda citizenship?